FOR IMMEDIATE RELEASE
Gateway Japan


with special performance event by Jocelyn Foye, SUMO

Torrance Art Museum
3320 Civic Center
Torrance, CA 90503

On view: March 26th- April 30th
Opening reception: 6-9pm opening || 8PM SUMO Performance event (6-7pm sparring practice)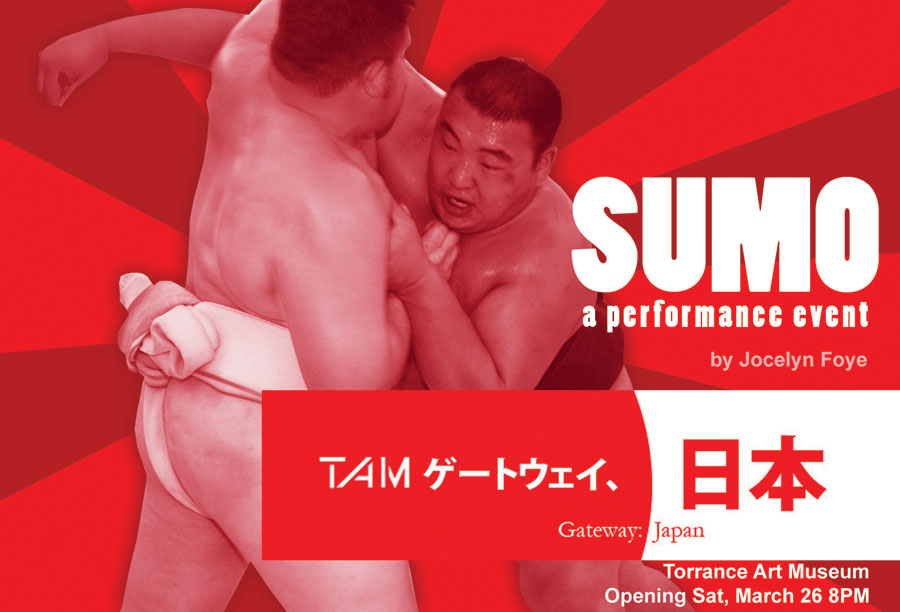 THIS SATURDAY!

"IT IS A COUP IN THE SUMO WORLD to have these two men competing!" - Director of CA Sumo Association, Andrew Freund
Long Beach artist, Jocelyn Foye, will be participating in the upcoming Gateway Japan at the Torrance Art Museum. In this exhibition she will be producing a performance event called SUMO, a fight between the two BEST amateur wrestlers in the world. This project will be taking place at 8pm BUT the athletes will be sparring from 6-7 in an adjacent building for a more private screening.
Foye will then be producing a sculptural relief painting in the following days of the exhibition from this performance event.
FOR MORE INFORMATION:
Jocelyn Foye
www.jocelynart.com
seven one four, five zero one, nine eight six three
jsfoye (at) gmail (dot) com
- - - - - - - - - - ----------------------------------------- - - - - - - - - - - - -

ADDITIONAL INFORMATION (The two competitors)
BYAMBA (Pro Sumo Name DAISHOCHI): In international competition, Byamba may be the most decorated sumo competitor ever. He has won three World Sumo Champion titles, and has dominated almost every tournament he has entered.

In his 5 years in professional sumo, Byamba moved up the ranks quickly, and was on pace to be at the very pinnacle of the sport, but he left early, due to injury and other reasons.
Visit http://sumobyamba.com/ for more information about Daishochi (Byamba).
- - - - - - - - - - -
SOSLAN (Pro Sumo Name WAKANOHO): He entered pro sumo in Japan at age 17, and moved up the ranks incredibly quickly -- one of the fastest ever in pro sumo history, among thousands of great athletes. He reached almost the highest rank, before being forced to leave the sport. He returns to Sumo with this match!
He also plays college football in the US, with a goal to enter the NFL in the near future. He currently resides in Florida.

For more basic information, see http://en.wikipedia.org/wiki/Wakanoh%C5%8D_Toshinori